The Everything EOS Weekly Report publishes all of the latest news and updates from around the world in the EOS ecosystem. The Everything EOS Weekly Report sources stories and updates from community members that are part of the English, Chinese, & Korean EOS communities. The Everything EOS Weekly Report is the best place to catch up on all the latest news in EOS from all around the world.
ENF Programs & Operations Health Report
The EOS Network Foundation (ENF) is the steward of the EOS network, tasked with software development, partnership cultivation, and public communication for EOS.
In alignment with the EOS Network Foundation's focus on transparency in blockchain ecosystems, the ENF has published a Program and Operations Health Report with updates on various ENF initiatives. 
This report includes a Project Health Scorecard that visualizes various ENF projects and their progress: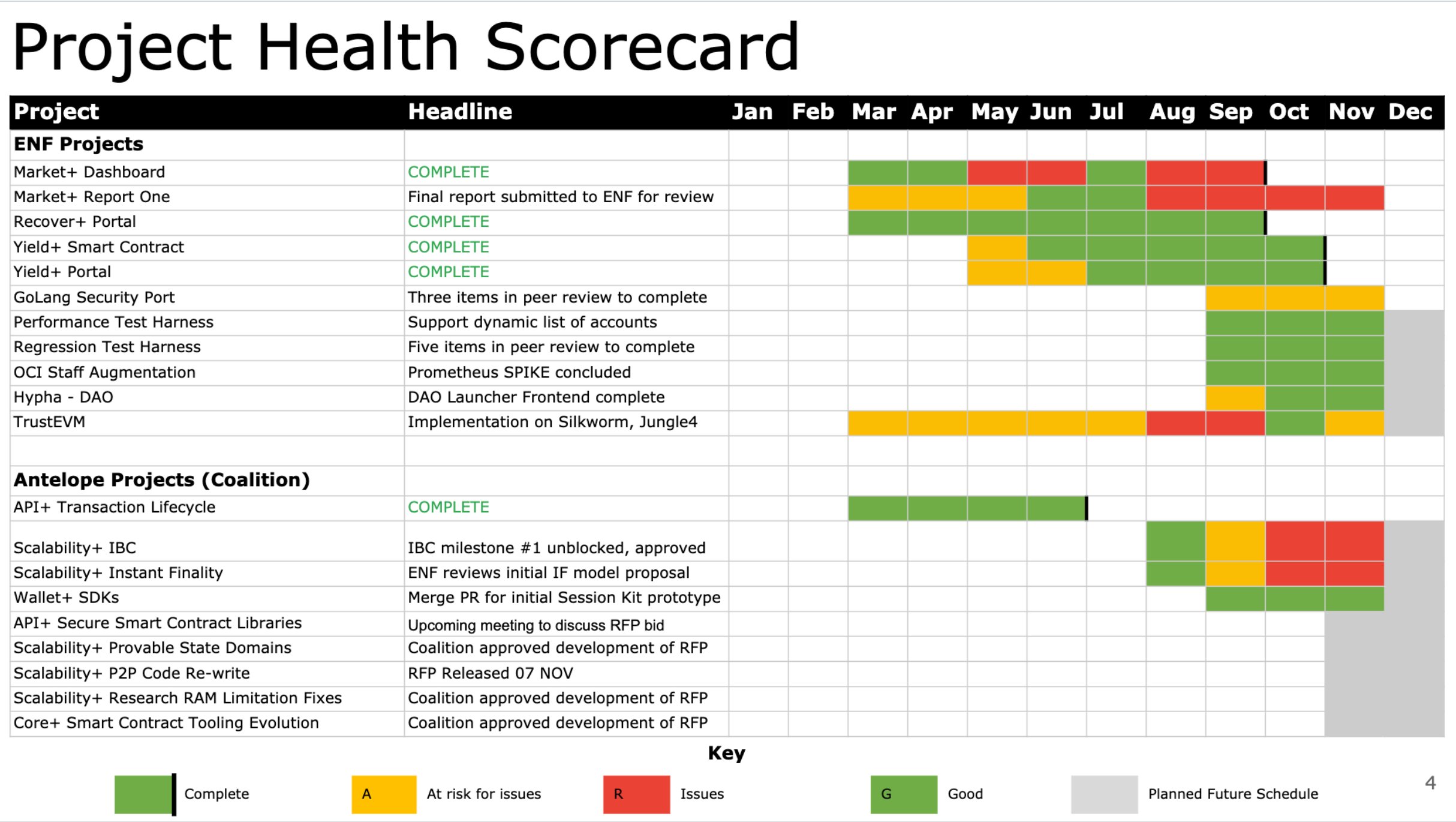 The scorecard separates projects into two sections. ENF projects are initiatives funded directly by the ENF as EOS-related priorities. Antelope projects are larger priorities identified by the Antelope Coalition, which consists of representatives from the EOS, WAX, Telos, and UX blockchain networks.
To date, the ENF has fully achieved four of their eleven priorities. The Marketplace+ dashboard, Recover+ portal, Yield+ smart contracts and Yield+ portal are all complete. In addition, there is good progress on Performance and Regression tests, OCI staff augmentation, and HyphaDAO. The GoLang security port and TrustEVM are progressing, but more slowly. The Market+ Report One is the only project from ENF that is blocked and experiencing issues.

The Antelope Coalition initiatives require a consensus, so progress tends to move more slowly. Still, the Coalition has already achieved the API+ Transaction Lifecycle priority and is showing substantial progress on the Wallet+ Software Development Kits (SDKs).
Inter-Blockchain Communication (IBC) and Instant Finality are related priorities. Both show significant progress, but issues currently block them. In addition, the Coalition has planned several future projects, including API+ Secure Smart Contract Libraries and Core+ Smart Contract Tooling Evolution. The Antelope Coalition has also defined Scalability+ initiatives for Provable State Domains, a Peer-To-Peer code rewrite, and RAM limitation research.
The ENF will update the public on progress through Health Reports and continue to elevate transparency in Web3 with the engineering GitHub, DevRel GitHub, and ENF Grant Framework.
ENV FAQ Published
The EOS Network Foundation published an FAQ covering all the details of the EOS Network Ventures (ENV) fund to help the community better understand its structure and funding.
The EOS Network Foundation and EOS Network Ventures will be independent entities with distinct but complementary mandates to serve the EOS Network.
The EOS Network Foundation is a non-profit with a mission to enable businesses, developers, and individuals to build on the EOS network. It maintains and develops the EOS software stack, represents the network through informational materials, and distributes grants for public goods within the ecosystem.
While these areas are important to the network's future growth, they do not provide a mechanism to inject capital into the network through for-profit initiatives. This function will be the role of the ENV within the EOS ecosystem.
The ENV will complement the ENF's efforts by serving as a separate, for-profit entity that can attract external capital to invest in projects that benefit the EOS ecosystem. Meanwhile, the ENV will direct profits from these investments into the EOS network.
The EOS community has discussed a venture initiative and ecosystem fund idea over the past year. Initially titled ENF Ventures, the concept was first released in January, with an expected delivery date on the roadmap for Q4 of 2022. The Yield+ Blue Paper (61) discussed potential funding sources, including a one-time redeployment of previously burned Worker Proposal funds.
This idea evolved through discussions with BPs, community members, and other stakeholders. Eventually, these discussions led to the genesis of EOS Network Ventures. However, the network could only formalize the initiative by reaching a consensus and signaling its support through a multi-signature approval.
Pomelo Update
Donations are open for Pomelo Season 4, and the race is on to bring in the most contributions from as many community members as possible. Once approved as a public good and accepted into Season 4, grant owners can apply to multiple Pomelo Pitch sessions in English, Chinese, and Korean to spread the word about their grant proposal.
The Pomelo Rapid Fire Pitch Sessions take place on Twitter Spaces in English. In these sessions, grant owners pitch a project in under 5 minutes. With up to 15 pitches per session, Rapid Fire Pitch Sessions can last up to 90 minutes, depending on demand. Pitch sessions will take place on Thursdays, Nov 24, Dec 1, and Dec 8, as well as Tuesday, Dec 13, all at 16:00 UTC.
GenerEOS hosts Pomelo Pitch Deck Interviews on YouTube in English. The Pitch Deck Interview is a 20-30 minute project introduction. Grant owners discuss progress, outline their grant proposal, explain future development, and provide other details as necessary. The recording schedule for a Pitch Deck Interview is flexible.
The EOS Nation Asia team hosts the Chinese edition of Pomelo Pitch Sessions on Tencent Meeting on WeChat. This session is a great opportunity to share your project with the Chinese community, with a Chinese translator available for English pitches. The Chinese pitch sessions take place on Saturdays, Nov 26, Dec 3, and Dec 10, all at 12:00 UTC.
EOS Nation Asia and Max from Eden Korea host the Korean edition of Pomelo Pitch Sessions on Twitter Spaces. This pitch session is a great opportunity to share your project with the Korean community. English and Chinese-speaking presenters can join, with Korean translations and explanations. Each project can present for 15 minutes, with five minutes each for a description, explanation, and Q&A. Pitch sessions take place on Saturdays, Nov 26, Dec 3, and Dec 10, all at 13:00-14:00 UTC. They will accommodate three to four projects per session.
Grant applications are still open! Community members looking to bootstrap public goods using Pomelo's quadratic funding system still have a chance to get their applications in.
Leap 3.2 Released
After two release candidates, the final version of Leap v3.2.0 is released, with new features like the leap-util application and new options for cleos. This software update does not include features that require a coordinated consensus upgrade, so operators can choose when to upgrade their nodes.
Leap v3.2.0 includes new and updated applications, new cleos options, new benchmarks, and new logs. It also includes improvements to stability and performance.
The new version features a unified command-line application called leap-util. This tool includes functions useful for node operators but inappropriate to include in existing cleos or nodeos tooling.
This release updates the cleos command-line tool. These updates include adding options to limit concurrent HTTP requests and allowing nodes to use the three-strikes rate limit more broadly.
Leap v3.2.0 also includes improved block log options, a benchmarking framework, and new data logging improvements. It also improves stability and adds performance optimizations that propel it further into the cutting edge of blockchain technology.
Defibox Vault
DeFiBox is channelling Yield+ rewards into more growth on their platform, boasting nearly $20m in TVL, a 14% growth rate month-on-month.
Since opening, the DeFiBox vault quickly amassed more than 3.4 million EOS in TVL, qualifying DeFiBox for Yield+ token rewards. Much of this TVL came from new users rather than existing users moving their tokens around.
DeFiBox has also released a new feature called StakeEOS. StakeEOS offers up to 8% returns through Yield+ rewards and other funding. Users can stake their EOS tokens and receive staked EOS (sEOS) tokens, which users can utilize like regular EOS, including borrowing against the tokens. Due to different interest rates per token, users can earn significant yields by leveraging their sEOS tokens. Using these methods, users effectively pay negative interest rates on sEOS-denominated USN loans.
DeFiBox has the most TVL of all EOS DeFi. However, Yield+ has a limit of 6 million EOS for calculating rewards. This limit creates a built-in incentive to distribute TVL more broadly across the DeFi market. The EOS community is looking forward to the more dynamic DeFi market that Yield+ enables.
Weekly EOS Community Events & Upcoming Conferences
As always, we host Fireside Chats in the EOS Community Discord every Wednesday at 19:00 UTC. Everyone is welcome to attend and ask questions directly to some of the best builders in EOS. We look forward to seeing you there!
This week the EOS community will have a presence at the following conferences:
DCENTRAL Miami, Miami, USA, Nov 28-29 (Mon-Tue) (website)
TECHEX Blockchain EXPO, London, UK, Dec 1-2 (Thu-Fri) (website)
The EOS community also hosts many online events that anyone can join every week:
EOS Ecosystem News, CoinTR Partnership, Wharf Interview & More! | Everything EOS Livestream – Dec 6
EOS Spaces Sustainability
Node Operator Roundtable – November 22 2023
Node Operator Roundtable – November 15 2023
Node Operator Roundtable – November 8 2023
Node Operator Roundtable – October 25 2023
Node Operator Roundtable – October 18 2023
EOS EVM v0.6.0 on Mainnet, Unicove Bridge, Leap 5.0 Delay, Pomelo S7 Finale! October 18th
Node Operator Roundtable – October 11th, 2023
Hypha Launch, EOS EVM, Alcor Farms, Chintai Event & More! October 11th
Antelope Coalition – October 5th 2023 Meeting | EOS, TELOS, WAX, UX Network
Node Operator Roundtable – October 4th, 2023
Leap 5 Update, Hypha Beta, ChangeNow USDT, EOS Milestones, Upland Spark & More! October 4th
Antelope Coalition – September 28, 2023 Meeting | EOS, TELOS, WAX, UX Network
Node Operator Roundtable – Sept. 27th, 2023
EOS Network
The EOS Network is a 3rd generation blockchain platform powered by the EOS VM, a low-latency, highly performant, and extensible WebAssembly engine for deterministic execution of near feeless transactions; purpose-built for enabling optimal web3 user and developer experiences. EOS is the flagship blockchain and financial center of the Antelope protocol, serving as the driving force behind multi-chain collaboration and public goods funding for tools and infrastructure through the EOS Network Foundation (ENF).
EOS Network Foundation
The EOS Network Foundation (ENF) is a not-for-profit organization that coordinates financial and non-financial support to encourage the growth and development of the EOS Network. The ENF is the hub of the EOS Network, harnessing the power of decentralization as a force for positive global change to chart a coordinated future for EOS.